Challenge Rating: 25
Whoa. Bit late this week, aren't I? Well, I have a good excuse. On Sunday night I got to see one of my heroes perform live. For those that know me, you know I'm a huge fan of lucha libre, Mexican masked wrestling. Two of the biggest stars are El Santo and Rey Misterio and guess who got to see them both from ringside?
So yeah, I had a little over 500 photos to sort through, but you can see them on my Flickr page!
This week's shot is another fantasy scene. Taking what I learned from Boss Fight, I wanted to expand that out and improve on it as best I could. Where better to take inspiration from than from the Granddaddy of fantasy storytelling, Dungeons & Dragons? I dug through my old books for ideas.
Maybe some vampires and skeletons? Nah.
Goblin hordes? Nah
Displacer Beast? I don't think anyone would know what that is.
Finally it hit me. Why was I trying so hard? The clue's in the name. All I needed was a dungeon and a dragon. And maybe a few poor adventurers seeking to claim the dragon's horde.
For this shot I used:
Cathedral Wall from Armorcast
Water Dragon from McFarlane Toys
Devin Dunhaus, Mercenary from Reaper Miniatures
Dwarven Fighter from Wizards of the Coast
This one fell into place by itself. Hold the desk lamp above and behind, line up the camera, and… Click.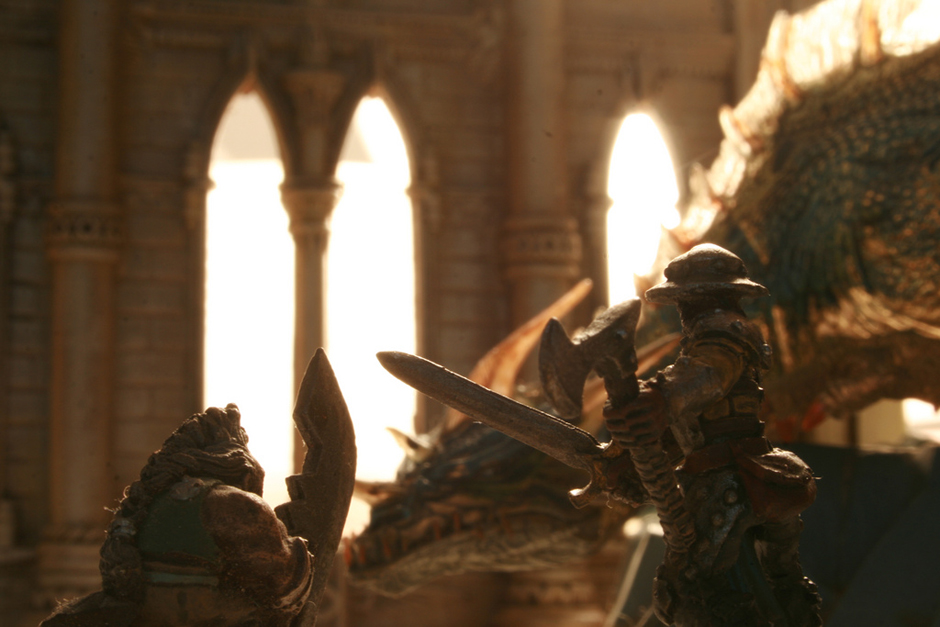 (Click to see larger)
Be good,
-Dave
I can go way back
in my mind