Ride Along
As a change of pace, I felt it was important to get out of the studio and shoot something totally different. Something so far out of my experience that I really didn't know where to start. I wanted to go on a police ride along, meaning I would ride shotgun with a police officer while they go out on their regular duties.
For the record, I was asked to leave any information that could potentially identify the people and places involved.
The officer was friendly enough. She was focused on her work and I didn't want to get in the way. I mean, what could I possibly do in a crisis situation? We made small talk and she explained her job and what her day to day was like, then the radio kicked in. A public disturbance. "Responding!" and we were off!
We get there (there being a certain fast food establishment that shall remain nameless) and two guys are fighting in the parking lot. I mean really going at it. My partner (is it cool that I call her that? It seems cool.) told me to stay in the car while she defused the situation.
I didn't see the gun drawn, but over the radio I heard her advise the perp (I'm down with the lingo) to drop the weapon and lie down on the ground. It was intense. I was so focused on what was happening that I didn't notice that my door had come open and that my seat belt was coming off. "Please step out of the vehicle and move away, sir." Looking around, I didn't see any other officers telling me to leave, but I know a good idea when I hear one.
I'm not going to lie, I was so busy trying to get away that I missed what happened next. One second I'm fleeing the scene, and the next there's this giant police robot where the squad car used to be. The whole thing ended shortly afterwards. Both guys were handcuffed on the ground and I finally remembered that I had my camera with me. Excuse me, officer. Is it ok if I take a picture of your…? I was at a loss for words.
"You mean my partner?"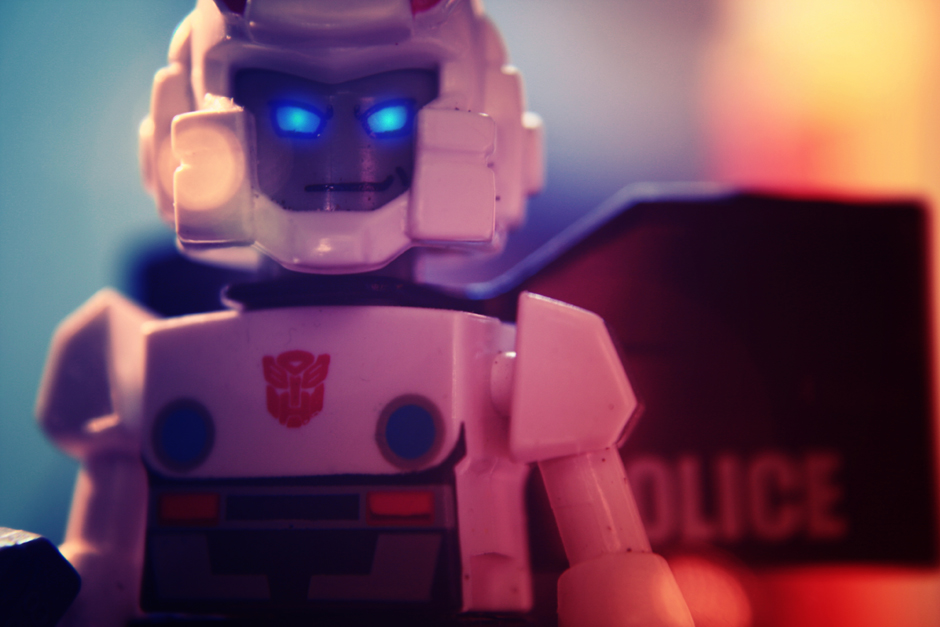 Model: Kreon Prowl from Hasbro
Be good,
-Dave
You want me to show you (Why?)