Atrocitus the Red Lantern
When I heard that Atrocitus, leader of the Red Lantern Corps, had booked a session, I admit that I had my doubts. No, that's not entirely true. When I heard that Atrocitus, leader of the Red Lantern Corps, had booked a session, I started crying, told my assistant to cancel all of my appointments and started boxing up the studio to start a new life under an assumed name. I have worked with crazy people before, but when you're working with someone with super-powered anger issues, it's time to pack it in.
So I was scrambling, trying to board up the windows when he got there. "Excuse me, are you guys open?"
NO. GO AWAY, SPACE MAN. I HAVE A HAMMER.
"I have an appointment for some portraits this morning. Do you think I could just come in and wait?" My assistant nudged me to the side and let him in. I retained my death grip on my death hammer. I have had enough of these guys coming in here, wrecking my studio, stealing my stuff, and stiffing me. GOOD MORNING, MR. ATROCITUS. SORRY FOR THE MESS. WE ARE REMODELING.
"Uh, yeah. No problem. Look, can we get started? I'm kind of booked tight today."
Back in the studio, I had him stand in position and started lining everything up. He didn't seem impressed with the radiation burns, holes punched in the walls, or the bullet holes. Some days I can't spackle the walls as fast as my clients knock them down. "You seem stressed out, man. When was the last time you had a vacation?"
IF YOU COULD TURN YOUR HEAD JUST TO YOUR LEFT, PLEASE. CHIN UP.
I was still holding the hammer.
Click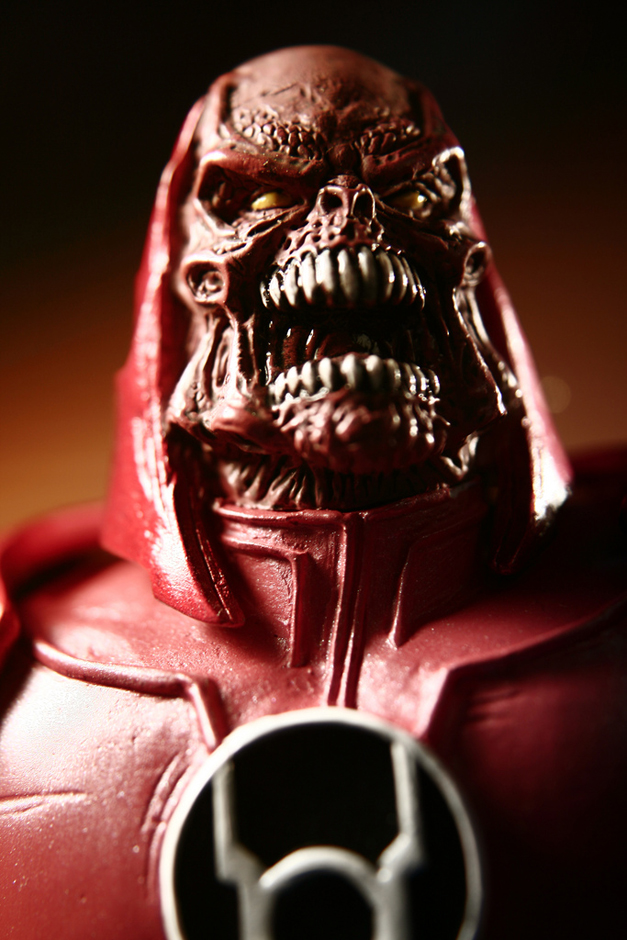 Model: Heroes of the DC Universe Blackest Night Atrocitus Bust by DC Direct
On his way out, we shook hands. "Hey, if the whole photography thing doesn't work out, give me a call."
I need a vacation, I think.
Be good,
-Dave
You're holding me back again