Full of Stars
This week was the 50th anniversary of Yuri Gagarin's flight into outer space and I wanted to try and do something special to commemorate it. I don't have any model rockets or miniature cosmonauts (an oversight that will be corrected), but I do have some Lego minifigs and a sizable science fiction collection. With that in mind, here is my attempt at recreating a scene from 2001: A Space Odyssey.
The original:

For this shot I used:
Lego Minifigure Spaceman (body and helmet)
Lego Minifigure Hazmat Guy (head)
The entire NGC 6357 Nebula
I set an LED bulb on either side of the figure and used my window blinds for the vertical stripes. Taking it into Photoshop, it was… ok. Nothing spectacular and certainly not as dramatic as the still from 2001. That's where the Nebula came in and worked its magic. It took quite a bit of playing with opacity, but I think the end result is definitely worth the time and effort. It's certainly blowing Lego Spaceman's mind!
"The thing's hollow—it goes on forever—and—oh my God—it's full of stars!"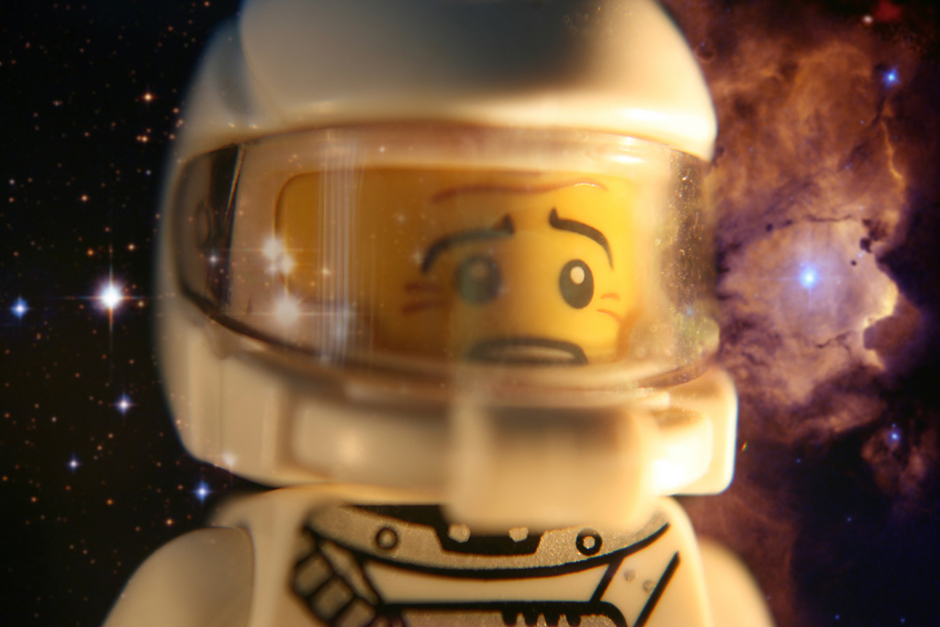 Be good,
-Dave
With your head so in the cloud